Spring is in the air. The weather has been perfect here in the Arizona desert, the mountains have been beckoning, so away I went. It felt like it was a good time to return to a favorite area of mine, a dramatic group of peaks known as the Copperosity Hills. There were a few I had missed on previous trips, so my goal was to get them climbed and enjoy the scenery.
I set out from home one afternoon, but the drive took longer than expected due to rough roads. On the way in, I passed this large pond, formed by a man-made earthen berm which impounds water after a storm. Since it hadn't rained for a couple of months, I was surprised to see so much still there. This may not look like a big deal to those of you who don't live in the desert, but to us, water is everything. These ponds allow cattle and other wildlife to survive out here.
By the time I parked at the abandoned site of Totopitk, it was later than I'd hoped. I marked the position of my truck with the GPS and set out on foot. I soon came to a large open area (water could collect here after a heavy rain, but it wouldn't last long). The peak I wanted can be seen to the right of center, the one with the gentle slopes.
I had a few miles to cover, so I knew this was going to take a while. Luckily, I was able to find a path made by cattle and wild burros which went through much of the vegetation awaiting me on the other side of the barren flats. By following a series of valleys and ridges, I made it to the top just fine, but even as I did the shadows were growing long.
Leaving a quick register on the summit of Peak 2582 and snapping a few photos, I did an about-face and hustled back down the miles to my truck. A brilliant sunset finished off the day.
Sadly, this is all that remains of Totopitk.
A sad reminder of past lives lived here.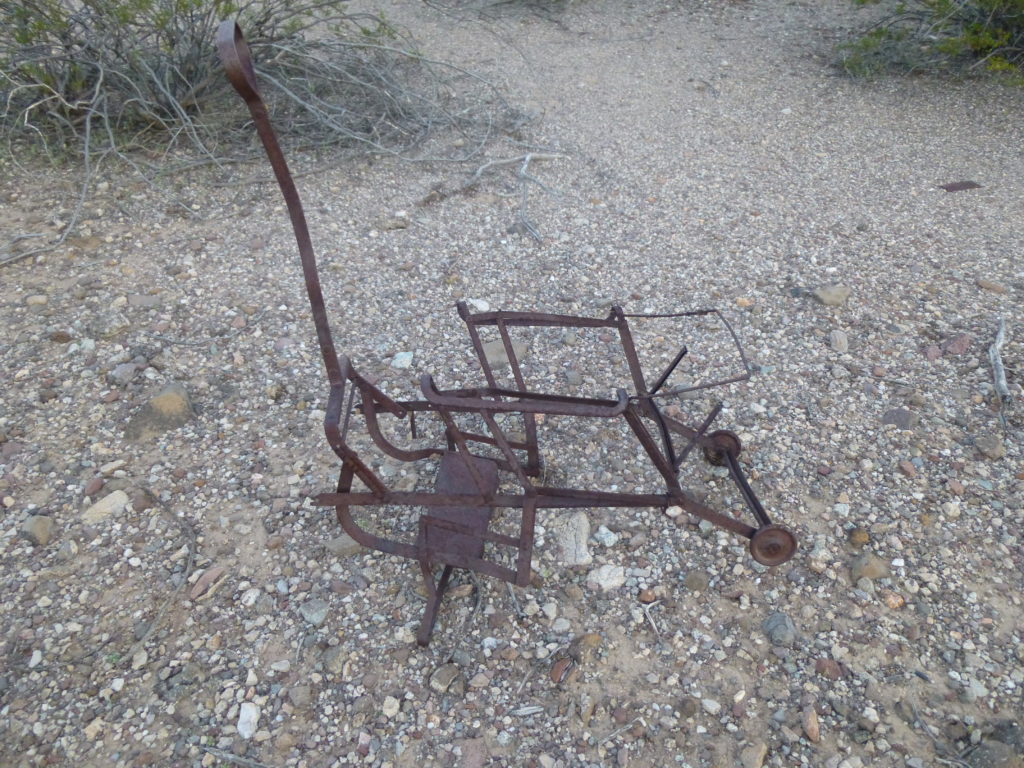 This old shrine shows that someone's faith was strong here at this lonely spot.
In the fading light, using map and GPS, I made my way to a good campsite near my next peak. During the night, I was awoken several times by the singing of coyotes near and far. I could see the nearby silhouette of the peak by starlight. Distant glimpses of it the day before had me thinking this one could spell trouble. Came the dawn, and I finally had a good look at the thing. Here, we are looking at the north side. You can see the first blush of sunlight on the left side. I've marked the summit with a red line.
My route took me towards what I thought was a weakness in the cliffs on the left-hand end, but once I got there I found it too steep and beyond my ability. Hmmm, now what? Moving to my right, I found a spot where I could gain a bit of height, a twisting route which soon had me on shaky ground. I can't speak for all peakbaggers, but I for one and several others I know are guilty of pushing our limits at times. Our desire to reach the top of a mountain can sometimes over-ride good sense, and we take chances we shouldn't. And that's exactly where I found myself at that moment. I came to a spot that was definitely the crux – a smooth slab with precious little in the way of holds, and bad exposure – a slip meant a 50-foot fall. My palms are sweaty as I type this, re-living the intensity of the moment. A sharp intake of breath, a couple of moves at maybe Class 5.4 and I was up. I was relieved, but also kicking myself for taking un-necessary chances. Here's a grainy blow-up of my route, shown by the yellow line. This is cropped from the previous photo.
It was a short scramble over to the highest point on the right. No sign of a previous visit, so I left a register on Peak 2380. It was obvious that I was not going to descend by the route I'd climbed, even if that meant I'd spend the rest of my life up there. After some poking around, I found an easier route down on the south side – if any of you go there, just try the south side and you'll find an easier route up, thus avoiding my stupidity.
A short walk around the west side rewarded me with this special view of the north side of Cathedral Rock, the highest peak in the group.
There are some healthy stands of saguaro in this area, which will be in bloom before too long.
Almost back to my truck, I came upon this strange-looking cactus growing close to the ground. Jim Malusa, a botany professor at the University of Arizona, said it was commonly called club cholla, also affectionately known as dog-turd cactus. See the resemblance?
Moving on, I had a different, better view of the peak I'd just climbed, seen from a new angle.
There are some pretty dramatic-looking peaks in the eastern part of the Copperosity Hills, such as these:
The above photo shows, once again, Cathedral Rock. On its left side can be seen the outrageous east face, which wraps around to the hidden south face, just as vertical but taller and wider.
Hey, this story was to be about springtime, so I'd better start showing you some pictures of what I mean by that.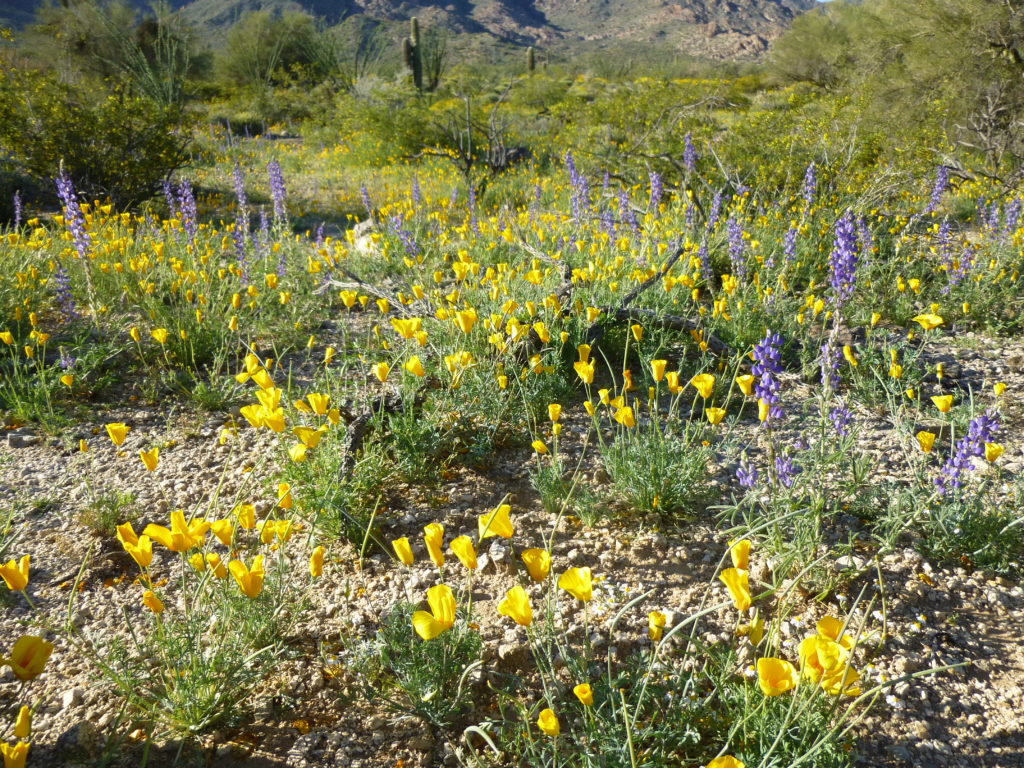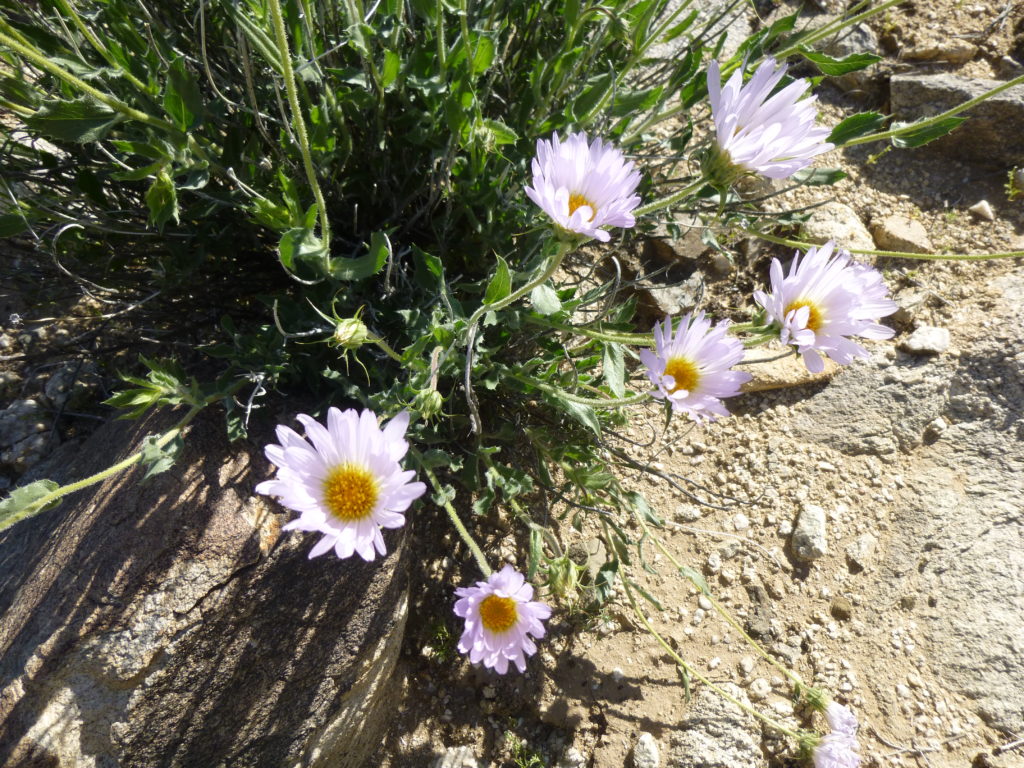 Everywhere I went I was seeing flowers. Even the cacti were wearing beautiful blossoms.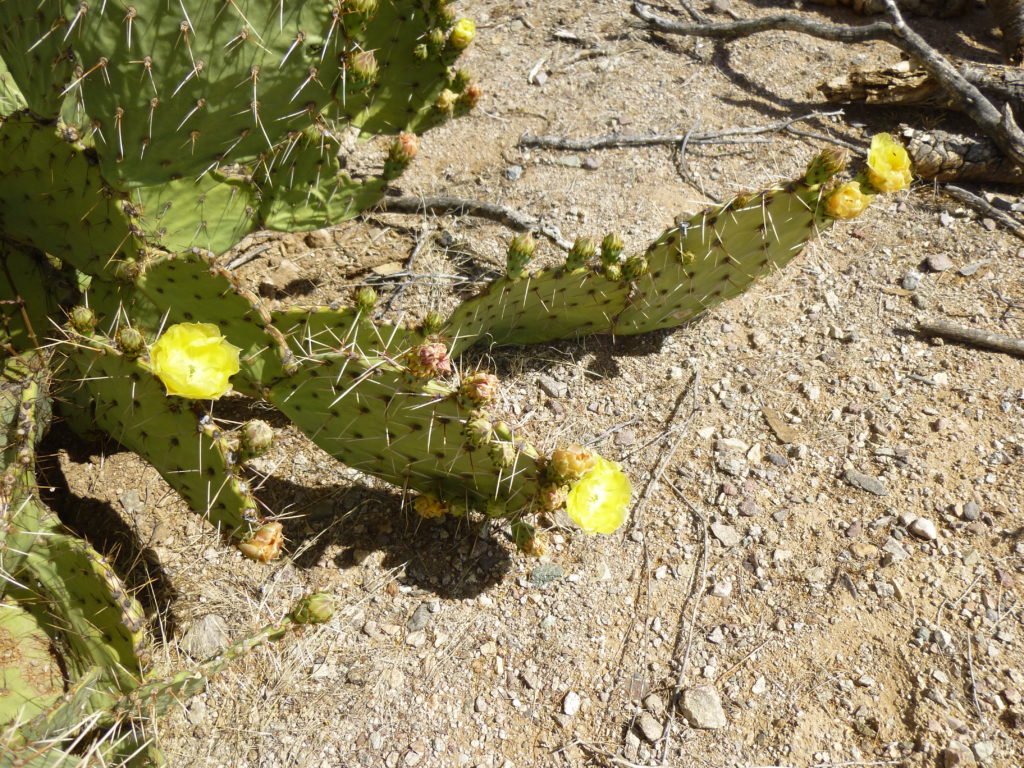 There were two more peaks that needed climbing, and they were right next to each other. It was a different day when I returned, on a hot, 92-degree afternoon. Here was my first peak.
It was short work to reach the top of Peak 2556. From the summit, as I scanned the desert floor below, something caught my eye. I've learned to look for the tiniest detail that seems out of place. Look at this next photo – precisely dead-center is a tiny white dot. Zoom in if you wish. I had a hunch what it was, but hoped I'd have a chance to examine it more closely later.
There was no sign of any prior visit, so I left a record, then started down. Once down on the desert floor and walking to my next peak, I noticed that the cholla cactus came in 3 different colors.
And just look at the topography that was nearby – beautiful, un-named features abound.
Even the Palo Verde trees were coming into bloom, a riot of yellow blossoms.
Walking through the desert on the way to my next peak, I saw more cacti in bloom.
There were many bushes like this, awash in color.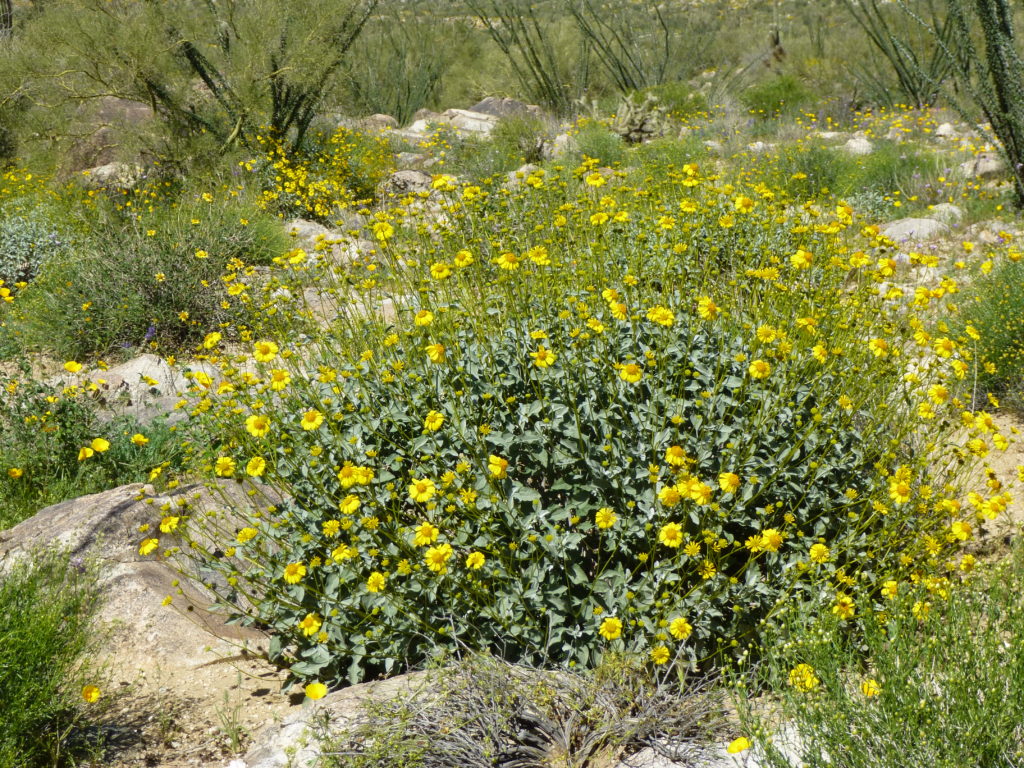 It didn't take long for me to reach the top of my final peak in this small but impressive range, Peak 2540. The summit sat there, untouched and unvisited – as I sat there, filling out a register, I was amazed at my good fortune, being able to spend time in such special places. Just look at this view from the top.
The day was wearing on, and shadows were starting to lengthen – it was time to leave. After all, I still had one more thing to check out before night fell. Remember the tiny white dot seen from Peak 2556? After I reached my truck, a short drive took me to it. Here's what I found.
It was the end of the line for this Chevy. The tags on it were from 2012 – pretty recent. It had almost certainly been stolen in the U.S., driven to Mexico, then back into the States in the commission of a crime, running either drugs or indocumentados across the border. Some moron was probably trying to evade La Migra and lost control, ending up wrecked in this wash. Sadly, an all-too-common sight in my desert.
A few more miles of driving brought me to a fine spot to camp for the night. As I watched night descend, I once again counted my blessings – it was springtime in the Copperosity Hills, and it was all mine.
The next day, I went to do another nearby peak. True, it wasn't in the Copperosity Hills – it actually sat about 15 road miles away in the far northeastern corner of the Sheridan Mountains. An hour's drive brought me to a point just north of it. I set out on foot to cover the short mile to its base. I wasn't planning to see anything special during that short walk, but I was about to be proven wrong. A sudden movement caught my eye, a flash of white streaking across the desert. I couldn't believe my eyes – it was an antelope jackrabbit. We have countless black-tailed jackrabbits here in the Sonoran Desert, they're as common as can be. But in my 30+ years of wandering here, I'll bet I haven't seen an antelope jackrabbit more than 4 times. The one I saw moved too quickly for me to photograph it, but I am here showing you an excellent picture of one, courtesy of photographer Robert Shantz. To me, a distinct difference is the white rump.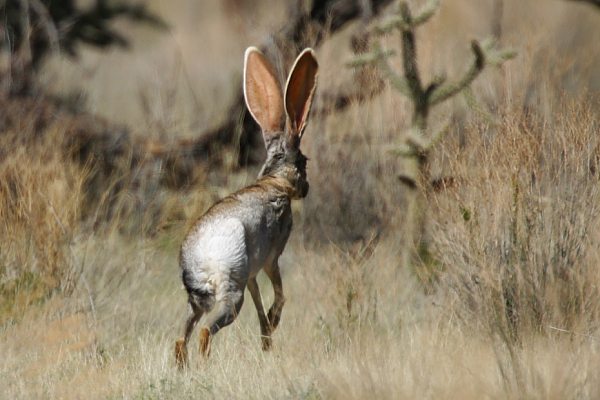 Seeing this elusive creature really made my day. The event was over within moments, so I moved on towards the mountain. Here's a view of where I was going. The whole left side of the peak you see is actually an outlier, closer to us, and obscuring the eastern half of the peak itself. Truth be told, the entire peak is a narrow limestone ridge, its north side one big long cliff. The only way up it I could see was to gain the end of the ridge at the right-hand edge of the photo.
Once on the ridge, I followed it up to the top of Peak 2409. The scrambling was tricky in spots and held my attention, and I was rewarded with an untrodden summit. Here's a great view I had up to the highest country of the range.
After building a cairn and leaving a register, I looked for a shorter way down – I didn't want to go all the way back along the ridge I'd climbed. It didn't take long to discover a short Class 3 route from the very summit down the north side – a nice little peak, all in all. It was a quick walk down to the desert floor, and Bob's your uncle, I was back at the truck and on my way home. Springtime in the desert – it doesn't get any better.